2021 FARMERS MARKET
Last year we began to make plans for the Farmers Market under State COVID guidelines. We secured several small grants to help us get sanitizer, masks, and cordons but vendors started dropping out as they experienced difficult conditions at other markets and decided to take some time off. When we got to two vendors we pulled the plug.
This year we're hoping the vaccine and refinement of guidelines will encourage the vendors and allow us to reopen the market. We are already polling our vendors for feedback. We will update you as developments warrant.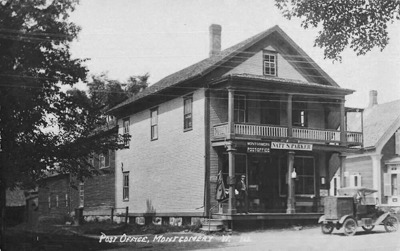 Early truck at the Parker (Vllage) Store. Now the site of the Montgomery Historical Society Farmers Market
2021 SCHOLARSHIP APPLICATIONS DUE BY MAY 1ST
---

OTHER INQUIRES
Montgomery Schoolhouse (MSI) Toys: A couple who had just purchased a "wonderful Montgomery Express" toy train, wrote us asking if we had any information about the manufacturer. They were wondering if a catalogue was ever published or any old newspapers with advertisements.

We don't have any but were able to provided links to Maple Landmark toys in Middlebury who bought out MSI in 2001. They still produce some of MSI's creations in a line called Montgomery Schoolhouse and have a short history of the MSI on their website.
---
THIS QUARTER IN MONTGOMERY HISTORY
January: 2006 - MHS newsletter renamed "Artifacts and Fiction" It was previously known as the "MHS Internet Newsletter"
February: 1862 C.T. Hall born in Montreal. VT Lumber King and owner of mills and much of Montgomery Center.
March: 1895 Kiss Party at Henry Baker's House (Pudvah Diary)
---
HISTORY QUIZ ANSWER


d. Towns with 80 or more "taxable inhabitants" were allotted two representatives, 80 or less had one. After seven years each town would have one representative each.

This was changed in 1965 creating districts to be truly proportional based on population. The districts are adjusted by the legislature every ten years based on the census. Currently Montgomery is included with Enosburg in the Franklin-7 district.

2020 MEMBERSHIP WRAP UP

Our 2020 membership was down significantly, as it was for many organizations throughout the state and country. While our membership revenue took less of a hit we want to redouble our efforts to have as wide a membership as possible. For those of you that were able to stay with us thank you, we hope you will continue.
Our annual goal is 200 memberships and we have reached as many as 220 in the past. Our 2021 drive will begin in late March but you can renew, anytime online by clicking the
Membership link
on our home page. You can use any credit card (processed by Paypal) or your personal Paypal account by clicking the Donate button and following the prompts. New and re-joining former members are appreciated greatly too.
If you have a friend, or family member, you think might be interested please encourage them to consider joining, or consider giving them a gift membership.

Thank you.

---
GENEROUS GIFT
We were pleasantly stunned early this month to receive a wonderfully generous behest from the Winston Lewis Charitable Remainder Trust. Winston, who passed away in 2019, was a strong supporter or our Society and particularly happy with our commitment to providing small scholarship grants to Montgomery seniors. Her gift will help us continue this program.


---



2021 ANNUAL MEETING IN JUNE

,

WE HOPE




After having to cancel last year's meeting and dinner we're looking forward to getting together this year. Keep your fingers crossed. This and other events will be posted at the Events link on our homepage.


---
PRATT HALL ENTRANCE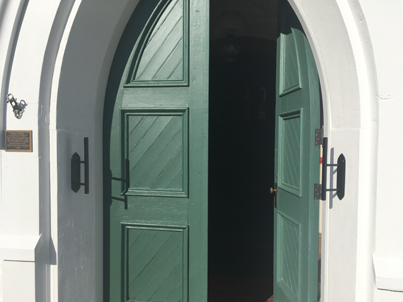 New railing completed and new grab bars installed.
---
MONTGOMERY CENTER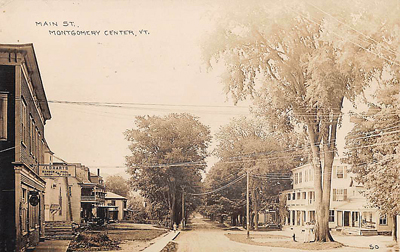 The building at far left is L.D. Harts Barbershop and Pool Hall. Also on that side of street are the Congregational Church, then Wrights Store, then Gardyne's store. (Now Snowshoe, Town Hall, Lutz's, and Jay Cloud Cyclery) Note telephone poles and web of utility wires.