Insurance Review
The Board is scrutinizing our insurance coverage and working closely with our agent at Hull Insurance to make sure our policy is the best fit for our needs and means. Included in this is a 100% reassessment of both structures, and calculating a new value for the entire property and contents. This is what determines, in part, reimbursement for damages and premiums.

In the past our coverage did not include the clock or bell, and in the event of other damage we would only be able to recoup about 50% for eligible items. We are considering significantly raising our deductible and other changes to better deal with significant damages other than a total loss. We will provide updates in future newsletters.

---

Treasurer's Report and Finances

As of 9/16/09:
Cash
Checking balance $ 9,752.99
Lalia Pratt CD $ 586.09
Capital Imp CD $1,897.71
Stained Glass CD $5,706.88
Liabilities
Balance owed (Heaton House) $ 13,820.00
The Board voted in August to pay the principal down on the Heaton House loan by $1,000. Sue also reported we had 56 Affinity Members and once TD Bank validated the information we would be eligible for at least $500 under this program. The Board decided to put money from this program towards the loan principle as well, once it is received.
Thank you to all of you who designated us for this program. Members are still strongly urged to designate the MHS as their Affinity partner if they haven't already, it's free and easy. Additional information is available at our web site. Call Sue if you have any questions.

Calling All Cooks

Long time member, and booster, Betty Stanton suggests we compile, publish, and sell a Montgomery cookbook comprised of recipes from Montgomery residents and Montgomery lovers. The book would include any family stories associated with the recipe, cooking etc. We think it's a great idea but need someone to lead the effort. This would include forming a committee, organizing the effort, and writing and editing the manuscript. If you are willing to do this please contact any member of the Board. Thanks.

---
Pratt Hall "Attic Bats" Become "Basement Rats"
Much of the same group that cleaned the attic of Pratt Hall in preparation for bug treatment has been working on replacing the undersized and/or disintegrating posts and footings in the basement of Pratt Hall. Pat Farmer, Ken Secor, Tim Chapin, Charlie Fichman, and Bill McGroarty, have replaced two footings, three posts, and the stairs to the basement crawl space as of this writing. Most of the older posts were small tree trunks about 4X4. All replacements are pressure treated 6X6. There are 8 posts, of which 7 will be replaced in this latest round of do-it-yourself repairs. Thanks to Tim Murphy for donating a pre-poured concrete footing, and his expert advice.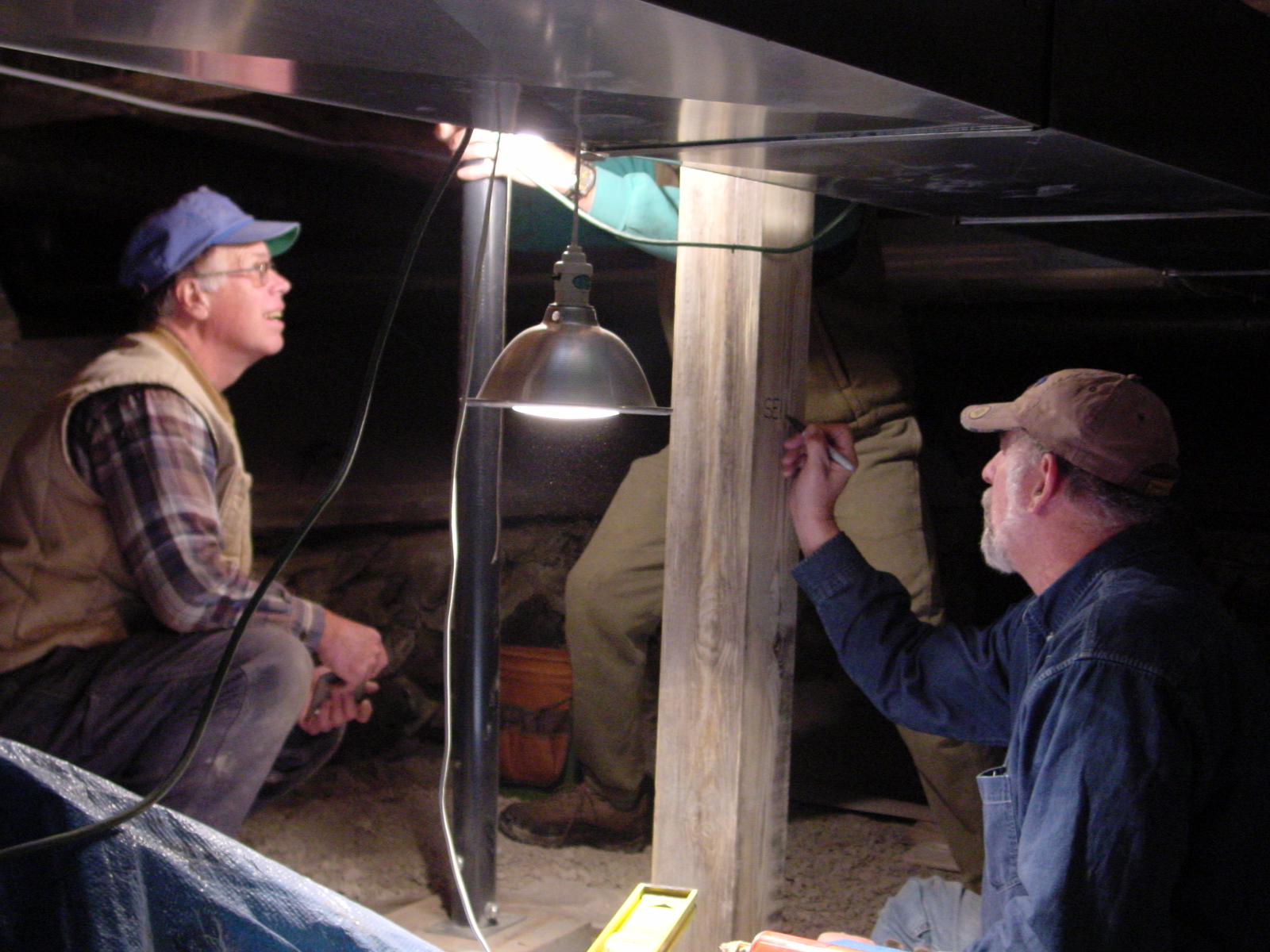 Rats in Action