2011 Membership Drive Underway


Our 2011 membership drive kicked off in late March. You should have received our mailing by now. It will be a challenging year, with a our major restoration project on Pratt Hall and our usual programs and activities. If you've been a member in the past thank you.
If not, what better time to join or re-join?
We hope we can count on you to help us continue our work and to keep us moving forward, making history everyday.
---
The MHS was awarded a $1,000 grant by the National Trust for Historic Preservation from the Daniel K. Thorne Intervention Fund on March 14th. The funds will be used to help make urgent structural repairs to the lower portion of its gothic bell and clock tower on the former Episcopal Church.
"Work on the tower started in January anticipating we would need repairs to the foundation, sills, and lower portion of the timbers of the tower" said Society Chairman Scott Perry. "Once work began the timber framer discovered more serious structural problems in urgent need of attention. This grant will help pay for those unanticipated repairs."
"Without organizations like the Montgomery Historical Society, communities and towns all across America would have a diminished sense of place," said Stephanie Meeks, president of the National Trust for Historic Preservation. "The National Trust for Historic Preservation is honored to provide a grant to the Montgomery Historical Society, which will use the funds to help preserve an important piece of our shared heritage."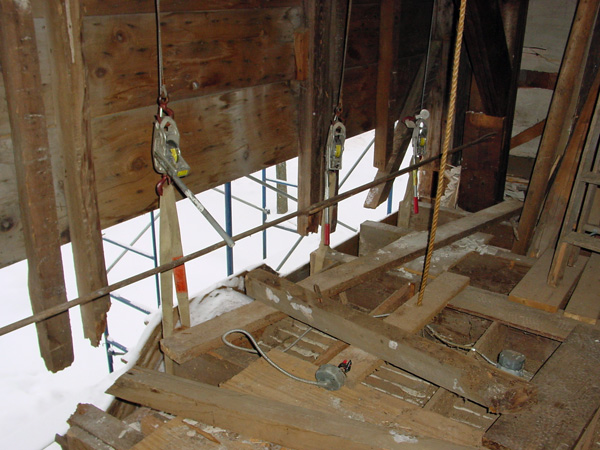 Void Above Door Where Girt Remains Were Removed
---
Pratt Hall Entry Work Update

We're about half way complete on our tower/entryway project, with most of the structural repair to the front wall timber frame wrapped up. If it ever stops snowing we'll be able to do the finish work.
One thing will be done differently, the door molding will be restored as closely as possible to what was there in the early 1900s. Shown below is the large molding around the upper part of the door, which we are calling the hood. A similar style of molding used to be above the louvers at the bell stage as well.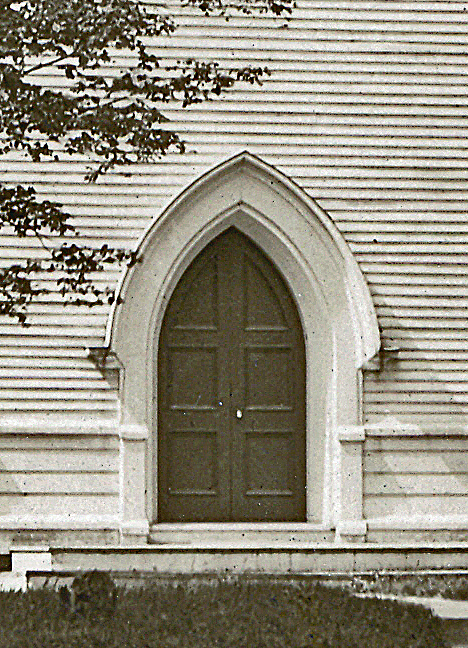 St. Bartholomew's 1917
You'll notice that the molding ends with a miter and horizontal piece on each side. This is classic gothic design and is covered in Bishop John Henry Hopkin's 1836 book on the subject. Bishop Hopkin's
was the first Episcopal Bishop of Vermont
, and designed a number of gothic churches. He consecrated our church in 1835.
This project has been financed in part by a combination of grants from the Vermont Division for Historic Preservation, the Eastman Charitable Foundation, the National Trust for Historic Preservation, TD Bank, and the Preservation Trust of Vermont, but over a third of the estimated $26,000 will come directly from your membership donations. A big thank you to all!
---
Speaking of The Town Report...


This year's cover girls were Sally Newton and Lois Lumbra. They have both been long time members and boosters of the MHS and very deserving of the recognition. Congratulations Sally and Lois.
---
Tentative MHS 2011 Events Dates
Click Here for the latest info on this year's MHS Events.
---

Limerick Du Jour


There once was an old hall named Pratt.
In Montgomery t'was the place to be at,
For concerts and lectures
And harmless conjecture
On history beginning with Clapps.