AUGUST ACCIDENT UPDATE

The Society settled with the driver's insurance company in November and received a check for just over $14,000 to cover damages to the front of the building. We hope to start the repairs as soon as the weather allows. We appreciate all the help from those of you who provided estimates and helped clean up the rubble.


---




We participated in another local craft show in December, organized by our own Sue Wilson to benefit the Montgomery Elementary School. We offered books, stained glass window and Harold Babcock note cards, and more. The Babcock cards were very popular, selling more than 12 dozen. We also debuted our covered bridges mug prototypes for customer feedback. Several were bought on the spot and we hope to make them available in the future. Men's Large and Extra Large "Benign Fringe Element" T-shirts are sold out!

---
FUTURE PROGRAMS AND EVENTS IN THE WORKS


Our Annual Meeting will be in June. The Farmers Market will return in 2020 from June 20th to September 26 and we hope to have another Trinkets and Treasures in August. Pratt Hall will host the Town Library's "Young Writer's Contest" in October. Stand by for more events as they develop. We also want to do another "Montgomery Stories".
Do you have any ideas for any programs you'd like to see? Please contact us and let us know.


---
DONATIONS SPOTLIGHT
Since the last newsletter the Town donated it's copy of the 1983 Historic Sites and Structures Survey of Montgomery. The VT Division for Historic Preservation surveyed every town in the state to create a registry of historic places. Montgomery's volume contains 38 entries and is nearly two inches thick!
Click here for the index
.
Pratt Hall as Pictured in the Vermont Division for Historic Preservation's 1983 Historic Sites and Structures Survey
---

2020 SCHOLARSHIP APPLICATIONS DUE BY MAY 1ST
---

TD BANK AFFINITY PROGRAM


We need your help. We need to re-establish our eligibility!!!

This time of year we remind everyone about the TD Bank Affinity program. Anyone with a TD Bank account can designate the MHS as their Affinity partner and the Bank will make a donation based on the average aggregated annual balance of the participants.

Thanks to all of you that have already designated us. We can always use additional members. The more participants and the more we save, the greater the donation from TD Bank.


---
THIS QUARTER IN MONTGOMERY HISTORY
Pudvah diaries
January: 1917 - Scarlet Fever outbreak. Kids quarantined at home.
February: 1902 - Entertainment given at the Hall with Victrola talking machine.
March: 1895 - Kiss Party at Henry Baker's.

2019 MEMBERSHIP WRAP UP

2019 was another good membership year. We came up short of our goal of 200 members again, but exceeded our $10,000 goal for membership donations. These operating funds pay for upkeep of Pratt Hall, and programs like Candles and Carols, our Memorial Day commemoration, our scholarships, and more. Thank you for joining and supporting these activities.
Our 2020 drive will begin in late March but you can join, or renew, anytime online by clicking the
Membership link
on our home page. You can use any credit card (processed by Paypal) or your personal Paypal account by clicking the Donate button and following the prompts.
---
HOLIDAY WEEKEND

On December 21st Pratt Hall was host to our third "Holiday Happiness" celebration. MHS's Sue Wilson teamed with the Library, and the Northwest Counseling and Support Services - Family Center, for an event that included face painting, an interactive nature display and craft with Kurt Valenta, cocoa and cookies, and horse drawn wagon rides from the Hall to the Comstock bridge and back by Misty Meadows Draft Horses from Fairfield. Our thanks to the Montgomery Fire Department for delivering Santa and traffic control. Santa listened to toy requests and handed out candy canes. Our thanks to all involved in this wonderful community celebration.


Classic Christmas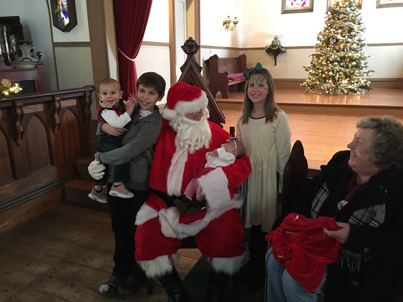 Everyone's Nice!!


On December 22nd the Society hosted it's annual Candles and Carols community sing-a-long, an event that's been going on for over 25 years! Steve Hays led the caroling segments, Kathleen McCloskey-Scott's Ballet Arts students performed an excerpt from the Nutcracker and Jay Farnham reprised "The Night Before Christmas". Warm cider and Parma's cookies topped off the evening. Thanks to all.

Thanks also to Noela McGroarty and Marijke Dollois for decorating the Hall again. This year's decoration theme was silver and gold.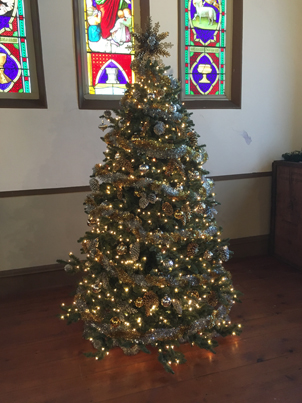 ---

LAME CANDLES AND CAROLS JOKES



How do the Fiber Folk say Merry Christmas?
Fleece Navidad.



What do you call a reptile hanging from the ceiling?
Mistletoad.



What's the difference between Santa's reindeer and a knight?
One slays the dragon, and the other's draggin' the sleigh.



It's been a tough year for Frosty the snowman...



He lost all his money since he put it in a SNOW BANK. The snow melted and someone just walked off with it.

It was a real tragedy. He could no longer afford CANDY CANES IN MINT CONDITION. There's nothing worse than second hand candy canes. Pre-licked? Yuck!

Of course Santa never has money problems. The big guy gets all sorts of perks. He got HIS SLEIGH ON THE HOUSE.

But back to Frosty… His wife filed for a divorce citing irreconcilable differences. She said he was just TOO MUCH OF A FLAKE.

Frosty took it real bad. He hit the antifreeze and let himself go. He sold his nose, his buttons, and his top hat. But recently he's gotten his act together. He's eating right, plenty of icicles, got a gym membership and is working out.

He's bench pressing 200 pounds and doing lots of sit ups and crunches. His arms are less stick-like and he's actually got a well defined six-pack. Now he's known as the ABDOMINABLE SNOWMAN.



HISTORY QUIZ ANSWERS



Windham had the largest population in the 1790 census.
Addison County had the smallest population in the 1790 census.

Windham 17,693 Windsor 15,748
Rutland 15,565 Bennington 12,254
Orange 10,529 Chittenden 7,301
Addison 6,449

What is now Franklin County was part of Chittenden County.