2015 Membership Report


We had a great response to our reminder letter we sent out in August. It's never too late to join. Please help us reach our goal of 200 members for 2015. If you've already joined - thank you! If not, it's never too late.

Christmas Plans


Now that the Hall is back together we are planning on our normal Christmas festivities. A member appreciation open house and Candles and Carols will be the third weekend of December. We will provide details as soon as we nail them down.


New Equipment


We recently added a new projection screen, audio receiver, and laptop to our equipment inventory. The older pieces, donations and rummage sale finds, finally wore out. We need to replace the hand microphone now too.


Final Painting of Heaton House


Early July saw the final painting of the Heaton House, including the trim and doors. Thanks to all the volunteers who pitched in. It looks great!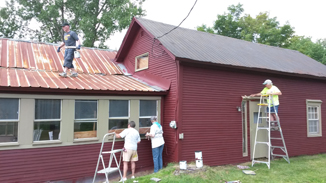 Thanks to Ted Bruckner


Member Ted Bruckner did some touch up work on the base of the tower in August. He donated materials and his time for the effort. Thank you Ted.


Pratt Hall Clock Running Again


Pat Farmer and Scott Perry were finally able to get the clock running again and Kevin Scheffler has resumed his clock winding duties
.
The chime is still turned off.

Bricks & Books


Copies of the 3rd Edition are available at Lutz's, The Town Office, at Pratt Hall and on line. We are still accepting engraved brick orders too. Pat Farmer has the details and you can also order via our web site.


Donations to the Archives


We've received a number of donations since the last newsletter. Our thanks to Gary Wetherbee for a picture album and papers related to our floods, to Henry Rowse for a bible and picture, to the Town for letters, and to Wendy Howard for pictures, papers (including a menu) and a T shirt related to Kilgore's Trout Saloon all in memory of Jim Abbott. A one pound T-bone steak with all the fixin's was $5.50.


Catherine Hays


With a heavy heart we acknowledge the passing of Catherine Hays, wife of Past President, Board member, and leader of the "Concerts by the Common" series, Steve Hays. Catherine was Steve's right hand woman and will be missed. Our heartfelt condolences to Steve on his loss.
T
his Quarter in Montgomery History

October 1874 - Union Church re-consecrated after extensive renovations.

November 1948 - Montgomery Grange #548 established.

December 1977 - St. Bartholomew's renamed Pratt Hall in honor of Larry Pratt.

History Quiz Answers
1. In a mid-1800s essay Nelson W. Clapp compares Montgomery's topography to what household item? A tray with one corner broken out.
2. Ithiel Town was a civil engineer who designed and built many early buildings and structures. He patented the Town lattice truss in 1820 which made him wealthy. How much did he charge for those who used his design?
A. $25/bridge
B. $2/foot
C. 10% of each /toll
D. $50/year/bridge
3. What State capital did Town design?
A. Connecticut
B. Indiana
C. North Carolina
D. All of the above
4. How many of Montgomery's covered bridges currently span the Trout River? 2, the Comstock and Longley bridges. (Hopkins is technically in Enosburg)