50th ANNIVERSARY ANNUAL MEETING & CELEBRATION


This year's Annual Meeting and celebration was on June 30th. It started with a very short business meeting where we presented a scholarship and elected Directors. We then enjoyed dinner under a tent on the lawn of Pratt Hall and guest speaker, Willem Lange's remarks. About 65 members and guests were present.
The Board reported the State of the Society remains strong as we set course for the next fifty years. We also announced a more concerted push to build a new facility to house our archives. Fund raising for the project kicked off with a raffle of a Michael Domina watercolor of the Comstock bridge.
Tickets will be on sale at the Farmer's Market and the drawing will be on September 16th. Copies of the Board's monthly minutes with details are available on request to any member.
Willem Lange entertained us with stories about his life in New England and how often Vermonters and others don't always say what they mean but still communicate effectively. He also delighted us with stories of messing with visitors who just don't get it. He explained the difference between New Hampshire and Vermont in terms of their default "grumpiness" vs. "lets try it and see what happens" attitudes.
---

ENGRAVED PAVERS
Two new engraved walkway bricks will be installed in July including one in honor of our clock winders past and present, aka Quasimodos. There's always room for more. If you would like to order please contact Pat Farmer, 326-2211. You can also order on line at our "History for Sale" link and email us the information
.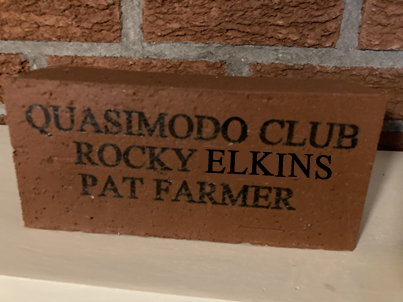 ---
We awarded our 2023 Joe and Irene Scott Memorial Scholarship to Thomas St. Onge. It included $1,000 check, a certificate, a biography of Joe and Irene, and a copy of the Town History all presented at our Annual Meeting.

Thomas is headed to the University of Maine in the fall where he will be studying Construction Engineering Technology. Congratulations to Thomas and proud mom and dad, Randy and Stacey.
---
FUTURE EVENTS AND PROGRAMS
Farmers Market: News Hours!!! Saturdays 9:30am - 1:00pm, July 1 - September 16. Please call Elsie if you would like to sell. 326-4558.
Holiday Happiness & Candles and Carols:
Details on these and additional events and programs will follow on our web site, face book page, and member email.
---
THIS QUARTER IN MONTGOMERY HISTORY
July:
1817 Congregationalist Church is first officially organized religious congregation in Montgomery.

August:
1973 "Articles of Association" are filed with the State of Vermont creating the Montgomery Historical Society, now a 501.c.3 non-profit corporation. First Board of Directors are Sharon DeVries, Andrew Crane, and Scott McKnight.


September
: 1910 Telephone service now in both the Village and the Center.

2023 MEMBERSHIP DRIVE IN FULL SWING
We've already exceeded our monetary goal for 2023 but would like to see an expanded membership. Hopefully you have received our 2023 membership letter.
You can still renew / join on line
anytime or stop by our booth at the Farmers Market.
Every donation helps.
Starting with this issue we will be publishing a list of current business members in every newsletter.
Revenue from membership dues is the life blood of our Society. Dues and donations fund our operating costs (e.g. heat, water, power, insurance, grounds), and our programs (e.g. preservation, speakers, concerts, holiday events).
THANK YOU!


---
2023 MEMORIAL DAY OBSERVANCE
The Historical Society hosted its 29th annual Memorial Day commemoration on Sunday June 28th at the Montgomery Village cemetery. This cemetery's first burial was 180 years ago, making it Montgomery's third oldest.

There are 93 veterans buried there holding the remains of veterans of the War of 1812, pre-civil war militias, the Civil War, the Spanish American War, World War I, World War II, Korea, and Vietnam.

The ceremony included a roll call and Enosburg Post 42 performed military honors. A wreath was also placed at the veterans' memorial in the Village where refreshments were served.
Our thanks to Post 42 in Enosburg, Post 12 in Richford, and Parma Jewett.

Memorial Day 2023 Roll Call
---

CONGREGATIONAL CHURCH WINDOW
We are now displaying the stained glass window pane recently donated by Dave and Cheryll Wisell at Pratt Hall.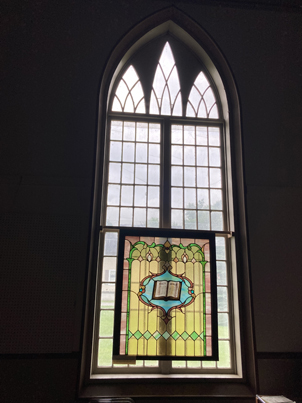 ---

SMITH ORGAN CONCERT


Last newsletter we reported on the restoration of an pipe organ in E. Fairfield made by Montgomery organ maker Edward Smith. There will be a free concert at 3:00 on August 20th at the Meeting House on the Green.
More info here
.
---

BUSINESS MEMBERS AS OF JULY 1ST


Thanks to the following businesses for their membership and support. Let them know you appreciate their civic mindedness by your patronage.
Black Lantern Inn
Community National Bank Trust Services
Community Bank NA
Johnson Woolen Mills
The Inn
Lucky Dog Maple
Lutz's Automotive
Manosh Properties LLC
Sunset Motor Inn
---
IN MEMORIAM
Long time members and supporters John Bridgeman, Dave Chevalier, Sonny Lumbra, and Sally Newton have passed since the last newsletter. Sally was also a Board member and Secretary for years and instrumental in a number of Society initiatives like renewing the Town's Annual Memorial Day commemoration. Our condolences to all their families and friends.
---
HISTORY QUIZ ANSWERS

1. d. "Mud Season" was added to the dictionary in 2022. Definition: a time of year (such as early spring) that is characterized by excessively muddy ground. The first known written use as defined above was in 1832.
2. b. 3, Maine, Hawaii, and Alaska all ban billboards.

---
John Beaty recently resigned from our Board. John authored many of our annual poetic membership letters and pitched in with everything from painting to cleaning out our belfry. His retirement life is limiting his time in Montgomery but he and Sandra will remain a part of our organizational family and visit often. Thank you for your

years

of service.
The Montgomery Historical Society Board elected at the Annual Meeting is:
Patrick Calecas, Bob Cummins, Marijke Dollois,
Pat Farmer,
Mary Garceau, John Kuryloski, Roger Lichti, Dale Mathews, Bill McGroarty,
Patty Perl,
Scott Perry, Elsie Saborowski, & Sue Wilson