MHS Nominated for PTV Award


We've submitted a nomination for an award from the Preservation Trust of Vermont (PTV) for our 2011 work on the front entryway and tower. Since 1982, The PTV has recognized outstanding contributions in the field of historic preservation. Awards are presented to the individuals and organizations who have made special contributions in preserving Vermont's historic architecture. Our Society last received recognition from the PTV in 1997. Award presentations will be made in early June at their Annual Meeting in Wilmington. Keep your fingers crossed.
---
Concerts By The Common
Steve Hays had been hard at work lining up a sterling group of artists for this year's concert series. Looks like we'll have one concert in either June or July, and one each in August and September. Our ticket prices will need to go up to help defray the cost of these artists. The Board agreed to raise single tickets to $15 for members, and $18.00 for non-members. This is our first real ticket increase in years. Season tickets (all three concerts) will be available to members for $40, non-members for $45. Please stay tuned for details or check out the Events or Concerts link on our home page.

The Eastman Charitable Foundation will underwrite the series once again and Steve will have sponsorship solicitations in the mail soon. Thanks for your support and patronage.

---
Art Show Reception and Show & Sale


This year's events will be the last weekend in August simultaneously with the annual Covered Bridges Garden Club's (CBGC) Harvestfest. There will be the membership/artist reception Friday evening followed by the Show and Sale on Saturday.

In the past we've provided room on our lawn for the Club's "Treasures and Trinkets" sale but they will no longer be doing it. Parma Jewett is organizing a similar event this year to benefit the MHS. If you have items you would like to donate please email us or give Parma a call. No clothes or electronics please.


---
CEA Hosted At Pratt Hall in February


The Community of Expressive Artists' (CEA) monthly meeting in February was held at Pratt Hall and was a great success. Featured artists included Vermont Vaudeville, and former MHS Director Heidi Lague. The performers were wonderful and it was a great fit for the Hall (although the juggling made me a bit nervous). CEA's goal is to provide a supportive environment where all types of artists can perform, network, and nurture their art.


---

MHS Annual Meeting


Mark you calendars. This year's "stockholders" meeting will be June 29th at 6:00 p.m. at Pratt Hall. Please join us for hors d'oeuvres, exhibits, and the annual report (and a surprise or two).

---

Speakers: Ethan Allen, Art History
You are cordially invited to a pre publishing presentation by our own Dave Bennett of his new book on Ethan Allen, Friday, April 20 at 7:00 p.m. at Pratt Hall. It's free and open to all.
"The Capture of Ethan Allen at Montreal, September 25, 1775 – Fact, Fiction and Fraud"
Shortly after the capture of Ticonderoga Allen led an expedition to capture the British fort of St. John's on the Sorel (now Richelieu) River. The foray ended in fiasco, which was one reason why he lost the command of the Green Mountain Boys to Lieutenant Colonel Seth Warner.
He was given permission by General Schuyler to accompany the expedition to Canada, but without a commission or a command. Schuyler's force laid siege to St. John's on September 18, under the command of his deputy, Brigadier General Richard Montgomery (Montgomery's namesake). By then, Allen had been on one scouting expedition with Major John Brown of Colonel Easton's regiment of Massachusetts militia.


Allen left St. John's on September 17, crossed the St. Lawrence River on the night of September 24 and was captured by the British on the following day. He spent nearly three years in British captivity, returning to lead Vermont politics (without any major office of state), starting in May, 1778.
This presentation inquires into the circumstances of Allen's capture and the question of who was responsible for the American defeat on Montreal Island. The only account of Ethan's capture of any length is his own Narrative of Colonel Ethan Allen's Captivity, first published in 1779, which has been accepted uncritically ever since."



Dr. John Tortalano

presents the Canadian Group of 7 Landscape Painters on May 17th at 7:30 at Pratt Hall. Impressionist influences from our neighbors to the north.


---
Memorial Day Commemoration


The Society's annual program will be at the Hill West Cemetery (on West Hill Rd) on May 28th at 10:00 a.m. It will include short remarks, roll call, and honors. This will be the 18th year the Society has organized this event.
---

Membership


Our 2012 membership drive kicked off with our mailing on March 29th. Membership is the lifeblood of any organization and we appreciate your support. You are also our ambassadors... tell your friends about what we do and the impact their donation has on our community. Join us!

Our mission is to:

- preserve Pratt Hall, artifacts, structures and memorabilia of historical interest
- provide a venue for local exhibits and artisans to share their talents;
- sponsor programs that assist in preserving town history and cultural events
- award scholarships to students on an annual basis.
---
MHS Attends Grant Seeker Forum


Several Directors will be attending a meeting with the Vermont Community Foundation (VCF) and Ben & Jerry's in St. Albans soon to learn more about new grant opportunities. The VCF and B&J are interested in how they can better help community non profits.
---
Pratt Hall


We are soliciting bids for painting the tower and front facade of Pratt Hall this summer. Last painted in 2006, we now need to cover the new construction, which was just given two coats of primer, and make some repairs to the clock faces and bell louvers and trim. Would you like to sponsor a clock face or number? Stay tuned.
---
VT History EXPO


We will be taking a small exhibit on Montgomery in the Civil War to Tunbridge this year. The EXPO is June 16th and 17th and is always a fun event with something for everyone. We always can use volunteers to help man our booth. Previous first time volunteers have raved about the experience. Please drop us a line if you're interested.

Calendar Feedback


We had lot's of great feedback about our 2012 calendars. Some folks took issue with our call on the July photo of the Millinery Headquarters, thinking it was the Village Store, or another building, and not Trout River Traders. We're pretty sure it was not the Village Store (windows, pillars, and foundations all don't match) but agree photographic evidence would indicate our timeline may be suspect, but we're sticking to our story... at least until someone has definitive evidence. Thanks to all of you who purchased a calendar and took the time to give us your feedback.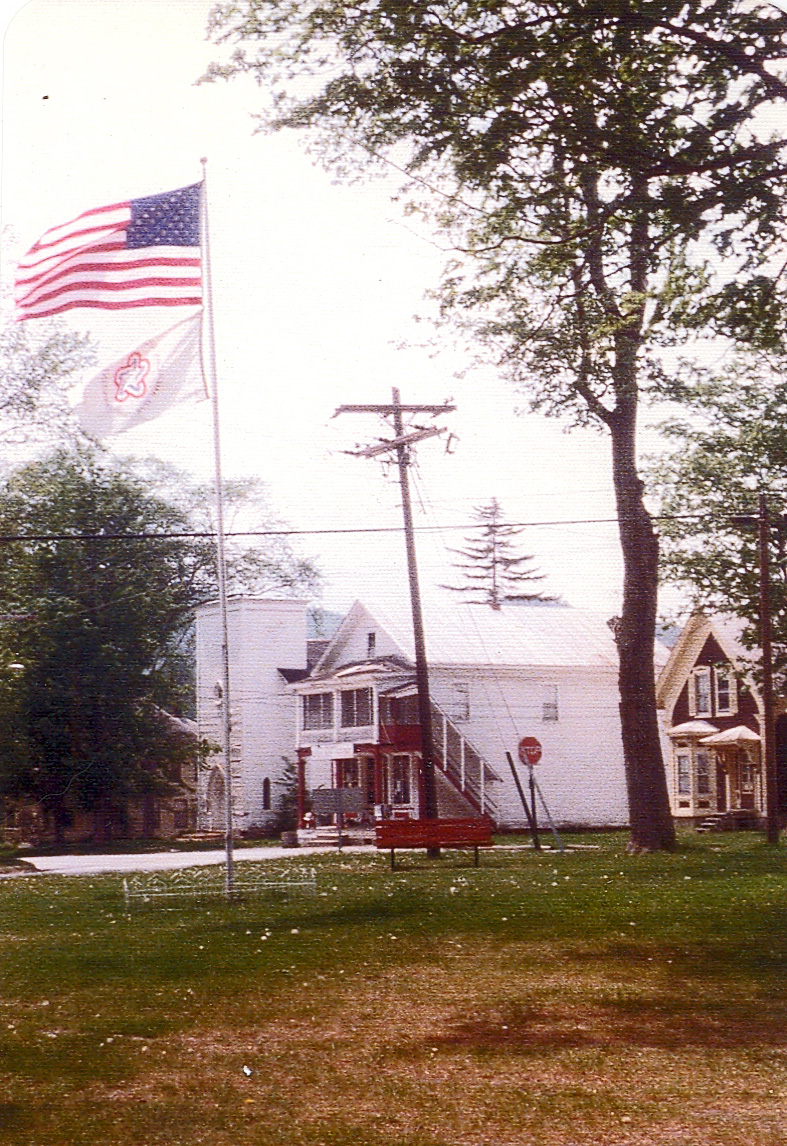 Village Store 1977
---
This Quarter In Montgomery History

April - 1984 Village Store (formerly the Parker store) burns.
May - 1802 First postal service established. Route came from Lowell.
June - 1957 Ribbon cut opening Route 242, the new Jay Road.
---
History Quiz Answers

1. Yes, the Town voted at least twice during the civil war years to prohibit sales of "grog" or liquor. Probably many more times. Source: Town Meeting minutes from 1860-1865.
2. a. the ride between the Village and E. Berkshire was 50 cents and b. 10 cents between the Center and Village.
Source:

Gazetteer & Business Directory of Franklin & Grand Isle Counties, 1882-83, by Hamilton Childs.

---
Two hands on the wheel
Steer around the grand canyons.
Mud dries on red? truck.