Insurance Review
After an extensive review by Board members Pat Farmer and Ken Secor, the Board adopted a change to our insurance policy. We raised our deductible and increased our coverage to better meet major damages to the building, including the stained glass windows. This is made possible by the sustained generous support of our membership.

---

Treasurer's Report and Finances


Assets
Checking $8,615.36
Lalia Pratt Hays Scholarship $ 588.73
Captal Improvements Fund $1,905.36
Stained Glass Window Fund $5,729.71
Savings - Domina Fundraiser $ 226.48
Liabilities
Line Of Credit Balance $12,620.00
As of Jan 20, 2010
Get Your Print of Pratt Hall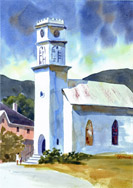 The MHS is excited to offer for purchase, beautiful Limited Edition prints of Pratt Hall from the original water color by Montgomery artist Michael Domina. There will be just 100 of these 10 X 14 giclees produced in cooperation with Michael, and they will be numbered and signed by him.

The prints can be purchased for $50.00 each. Postage and shipping, if required, will be additional. As a special incentive, the Artists In Residence/Village Frame Shoppe, in Enosburg, is offering 25% off on custom backing, matting, and framing for this print. They can be reached at 802-933-6403; ask for Dan Patullo.

Thanks to Michael and Dan for their generous support.