Treasurer's Report September 2010

Checking $10,256.47
Scholarship $591.66
Stained Glass CD $5758.26
Domina Print Account $582.57
Still inbound this fiscal year... a $1,500 grant from the Eastman Charitable Trust and a $7,500 grant from the VT Div. For Historic Preservation.

No Debt!!

Affinity Program Members - 73.

---

Estate Planning and Bequests
In the past we've been approached by people who wanted to include the Society in their estate planning and asked that we provide the necessary tax information and documentation of our non-profit status. They said they were looking for a way to make a tax deductible contribution to a
local
group and the MHS fit the bill. We were honored to be considered. Similarly we've received money and artifacts specified in people's wills over the years, or donations in lieu of memorial flowers.
Including the MHS in your will or estate plan is as simple as inserting this language in your will:
"I give ___________ to the Montgomery Historical Society, having its principal offices at 2044 North Main Street, Montgomery, Vermont 05470, for its general purposes." Or you might designate the MHS as the recipient of a gift annuity, or retirement plan proceeds, or name the MHS as the recipient of a percent of your estate. Likewise you could donate an item to our archives so future generations could learn from and enjoy it. The MHS is a 501.c.3 non-profit organization.
We know this can be a delicate subject but want you to know that we are very grateful for such support and would be honored to work with you if you have similar desires. Please contact us for more details.
---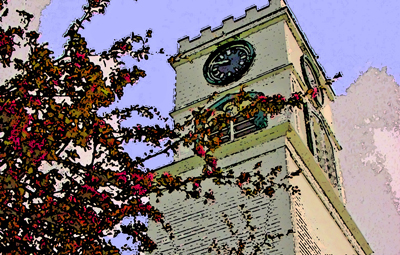 Pratt Hall & Apple Blossoms
image by Scott Perry
Notecards are available for purchase. Set of 4 just $6.00.
2010 Membership Report


As of this writing our membership stands at 196 households and $9,300. Thanks to all of you for joining or renewing. We'll continue to accept memberships through the end of the year and I'm confident we'll hit our 200 member / $10,000 goal.


---
Town History Book Update


Jo Anne Bennett reports she's completed her initial round of research for the Third Edition of the Town history. It will include significant events from 1990-present. "Now the fun part begins" where she sits down and interviews people on their recollections. This is an iterative and interactive process and she's looking forward to hearing from you. We're looking forward to publishing it sometime in 2012.


---

Pratt Hall Bugs


A rose, is a rose, is a rose...not, at least when comes to Powder Post beetles. Montgomery resident and State forester, Dan Dilner, stopped by Pratt Hall early this summer and took samples of the bugs that are still active in the Hall. The State entomologist identified them as Anobiid Deathwatch beetles, not a true Powder Post but pretty much the same. Their name is certainly terrifying.
The State also gave us a recommendation on what to use to treat for them. We will be working with business member, Paul Grenier, (Grenier's Pest Control) for another treatment, concentrating on the tower after the renovation project is completed.
---
Teaching American History Grant Update

In an earlier newsletter we told you about a grant UVM graduate student Scott McLaughlin was writing aimed at improving the teaching of American history by putting together a network of teachers and local historical organizations. Scott reports " we were awarded the Teaching American History grant!" Two one million dollar grants were secured, one for southern VT and the other for programs in Chittenden, Franklin, and Grand Isle Counties. The Society will be a supporting organization.
---
We're An Open Book

As a reminder, the Agendas and Minutes, which include the Treasurer's Reports, are available on our web site.