SOCIETY SUPPORT REQUESTS


We continued to field requests for help. We provided photos, research assistance, and reviewed a draft of the Montgomery portion of a booklet on mill ruins on the banks of the Upper Missisquoi and Trout Rivers. It is being done by members of the Lowell Historical Society under a grant from the Upper Missisquoi and Trout Rivers Wild and Scenic River committee.


Nelson and Hall Tub Mill Ruins after 1917 Fire

Their study includes watershed communities in Orleans and Franklin counties. In Montgomery they include the Nelson and Hall veneer and tub mills, the Hutchins tub mill, the Black Falls Spool and Bobbin mill, and the dimensional lumber, furniture, and tub mills just upstream of the Comstock bridge.

The Society also did a short presentation at the May in-person senior luncheon. We exhibited the Town's 1895 hand drawn copy of the original lotting map, a silver thimble probably given to Hattie Clapp in the 1850's, an 1804 lawyer's handbook belonging to her father Joshua, and a butter tub. We connected them all with their stories which involved the Clapp and Kelton families.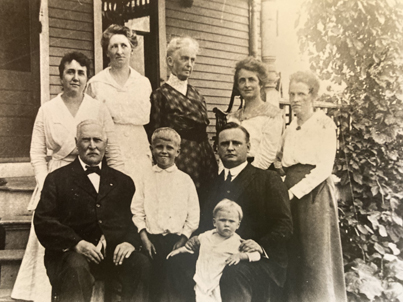 Otis N. Kelton seated, Hatty Kelton (nee Clapp) back row, third from
left
with son, daughter-in-law, daughters, and grandsons at
family residence in
St. Albans, 1912.
---

PROJECTS
The men-with-tools have two projects in the works: re-staining the front deck at Pratt Hall; and some touch up on the archival building including the barn quilt.
We still have a bit of electrical work on our to-do list as well, including a new light for our sign. The last light and sign were the victims of a car crash several years ago. If you have time and would like to join in please drop us an email.
---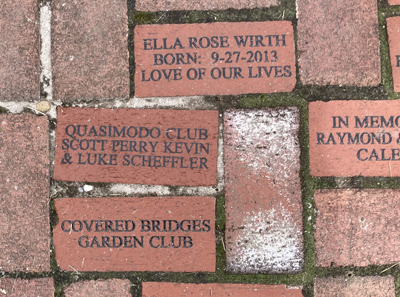 ENGRAVED PAVERS
Six new engraved walkway bricks were installed in May including some in honor of our clock winders, aka Quasimodos. There's always room for more. If you would like to order please contact Pat Farmer, 326-2211. You can also order on line at our "History for Sale" link and email us the information
.
---
We're sad to report we did not receive any scholarship applications this year. (Neither did at least one other Town organization.) We mailed letters to 12 eligibles. We also mailed notices to guidance counselors, put notices in the local paper and our own newsletter. We can't explain the apparent lack of interest but we will continue the programs next year.
---
FUTURE EVENTS AND PROGRAMS
Farmers Market: Saturdays 9:00 - Noon, July 9 - September 10. Please call Sue if you would like to sell. 326-4189.
Possible Puppet Show: In September or October.
Holiday Happiness & Candles and Carols: Weekend of December 17 & 18 we will reprieve the wagon rides and also host our first annual carol sing along since Covid suspended it in 2020.
Details on these and additional events and programs will follow on our web site, face book page, and member email.
---
THIS QUARTER IN MONTGOMERY HISTORY
July:
1818 - General Richard Montgomery's body disinterred from burial site in Quebec City and moved to New York city for re-internment.
August:
1954 - Montgomery Fire Department organized.
September
: 1910 - First telephone line established between the Village and the Center.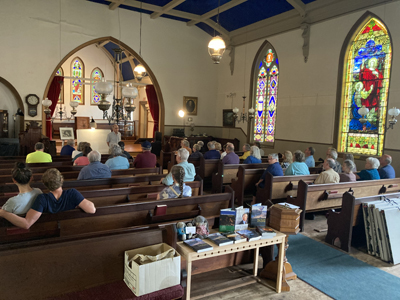 HOWARD COFFIN'S "VERMONT'S REMARKABLE SHARPSHOOTERS"


The Society partnered with the Friends of the Library to host Howard Coffin in June to speak about the relatively unknown role of Vermont's Sharpshooter companies at Gettysburg.


Over 40 people heard how the Sharpshooters helped repulse the rebel advance near Little Round Top on day two, which helped prevent a Confederate victory and forced a third day of battle where the Union forces, including the VT infantry which famously repulsed Pickett's Charge, won the battle.

Coffin is also the author of several other Civil War books including "Something Abides", "Nine Months to Gettysburg"
, and "Full Duty". The Society assisted with some research on Montgomery in "Something Abides".
---
ANNUAL MEETING RETURNS TO PRATT HALL


The Society's Annual Meeting, consisting of a business meeting and social for members and guests, was held in June. About 50 members and guests were present to enjoy member Parma Jewett's delicious appetizers and sweets. This was the first time in five years we've done this at Pratt Hall no thanks, in part, to Covid precautions.
The Board reported the State of the Society is strong, financially and in terms of membership. We are hoping to increase our community engagement and service as we approach our 50th anniversary next year.
Details are available upon request.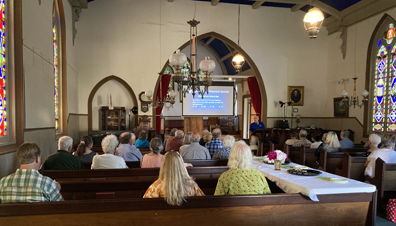 ---
2022 MEMBERSHIP DRIVE IN FULL SWING
We've mostly rebounded from our Covid dip in membership last year but fell short of our 200 membership goal. Hopefully you have received our 2022 membership letter.
You can still renew / join online
anytime.
Every donation helps.
Revenue from membership dues is the life blood of our Society. Dues and donations fund our operating costs (e.g. heat, water, power, insurance, grounds), and our programs (e.g. preservation, speakers, concerts, holiday events).
THANK YOU!


---
2022 MEMORIAL DAY OBSERVANCE
The Historical Society hosted its 28th annual Memorial Day commemoration on Sunday June 29th at Montgomery's second oldest (200 years old) cemetery in the Center. There are nearly 290 veterans interred in Montgomery cemeteries with 34 at the old Center cemetery.

The ceremony included a roll call for the 34 who served in the Revolutionary War, War of 1812, Civil War and period militias. Enosburg Post 42 performed military honors. A wreath was also placed at the veterans' memorial in the Village where refreshments were served.
Our thanks to Post 42 Enosburg, Post 12 Richford, and Parma Jewett.
---

PHONOGRAPH DONATION


Our thanks to Mary and Roger Garceau for donating a circa 1919 Edison phonograph, Edison's version of a Victrola. We are pairing it with our Nelson and Hall Victrola packing case to add a bit of interest and context. Click the image below to hear a snippet.