PRATT HALL PROJECTS
Blouin Brothers installed the Hall's new fuel oil tank in June so we will now be able to purchase refills as needed. The old tank had been "red tagged". An insurance inspection finding required us to bring it up to code with a new tank, slab, and piping.
We still have a bit of electrical and plumbing work to do as well.
---

ENGRAVED PAVERS
The next order of engraved walkway bricks will be placed soon and installed later this Summer. If you would like to order for this shipment please contact Pat Farmer, 326-2211 ASAP but no later than July 15th. You can also order on line at our "History for Sale" link and email us the information
.
---
UPCOMING EVENTS AND PROGRAMS
Farmers Market: Saturdays 9:00 - 1:00, July10 - September 11. Please call Sue if you would like to sell. 326-4189.
Trinkets and Treasures: August 21. We are seeking donations of items to sell. Good, clean condition items only. No books, electronic devices, or clothes. Please call Marijke at 326-4404 to arrange a drop off.
Annual Meeting: August 20. Something different this year... At the Belfry under a party tent. Short business meeting then buffet. Please make reservations with Sue at 326-4189
Holiday Happiness: December 18. The horses are already reserved for wagon rides and Santa has wiped the slate clean on the bad list.
Candles and Carols: December 19. Our annual caroling sing-along returns.
We also hope to do a few flash exhibits of items from our collection to display Saturday mornings at the Hall, and host a speaker or two.
Details on these and additional events and programs will follow on our web site, face book page, and member email.
---
STATE HISTORIC MARKERS

This month the historic site markers for the Comstock, Fuller, and Longley bridges, and for the Union Church (Pratt Hall) will be installed by State and Town crews and volunteers. Click this link to see the raw (unpainted) plaques.
MontgomeryMarkers/index.html
We will host an unveiling ceremony for the Union Church plaque to commemorate the installation of all of them. We'll get out the details when we nail things down.
---
IN MEMORIAM
We were crushed to learn member, and Trustee Emeritus, Sabra Massey passed away recently. Her laugh was infectious and as unique as her finger prints. You could identify her by it even if she was out of sight.

She was

an avid supporter of the Society and community, a fiber folk, and organized concerts and assisted with husband Andrew's "Candles and Carols" program
s. Our heartfelt condolences go out to Robin and Sebastian.
---
HISTORY QUIZ ANSWERS

1. b. The UK variant has been the predominant variant in Franklin County. The others have been the U.S. and Brazilian variants. No South African or Indian variants have been found in Franklin County yet. All variants have been found in Chittenden County. U.K. and U.S. are the only ones detected in Orleans County.
2. b. Enosburg, Fairfax, Fairfield, Richford, St. Albans, & Swanton had higher vaccination rates. Montgomery was tied with Franklin.
---
THIS QUARTER IN MONTGOMERY HISTORY
July:
1979 Official opening of the Rec Center
August:
1973 Montgomery Historical Society organized
September
: 1819 Joel Clapp, Montgomery's first born child, is ordained in Windsor, VT as an Episcopal priest.


---
LOCAL GIRL RUNS VERY, VERY FAST


Congratulations to Elle Purrier - St. Pierre for qualifying for the Summer Olympics. We are proud of you!!



BREAKING NEWS: PRATT HALL TO HOST COVID VACCINATIONS


The Vermont Guard will be offering free Johnson and Johnson (one and done) COVID 19 vaccinati
ons at Pratt Hall
from 10:00 - 1:00
on July 10, the opening day of the Farmers Market . No reservations needed!
---
MHS PINT GLASSES... COMING SOON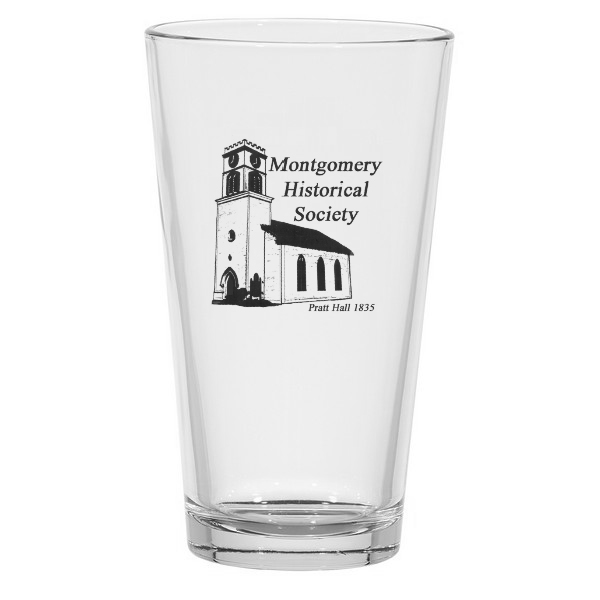 History for Sale
---
2021 MEMBERSHIP DRIVE IN FULL SWING
We're hoping to rebound from a Covid dip in membership last year and hopefully you have received our annual membership letter.
You can still renew / join online
anytime.
Every donation helps.
Revenue from membership dues is the life blood of our Society. Dues and donations fund our operating costs (e.g. heat, water, power, insurance, grounds), and our programs (e.g. preservation, speakers, concerts, holiday events).
THANK YOU!


---
2021 MEMORIAL DAY OBSERVANCE

This year's ceremony took place at the Clapp Cemetery located on Route 118 just west of the Town Garage. It is the oldest of Montgomery's cemeteries and there are 17 veterans interred there who served in the Revolutionary War, War of 1812, and in pre-civil war Militias. We did a roll call, post 42 provided military honors, and flowers were distributed to decorate their graves. Flags provided by Post 12 and placed by the Mercy family. After the ceremony a wreath was laid at the Village common monument and refreshments were provided.
Our thanks to Post 42 Enosburg, Post 12 Richford, the Mercy family, and Parma Jewett.
Grave of Revolutionary War veteran, and
Montgomery's first male settler,
Joshua Clapp
.
---

2021 SCHOLARSHIP WINNER

Abby Dixson-Boles was selected for the Dr. Winston Lewis and Joe and Irene Scott Memorial scholarships. Her essay on the impact of growing up in Montgomery was outstanding. She plans to attend Sarah Lawrence College starting in the Fall. Congratulations to Abby and her parents, Chris and Jade.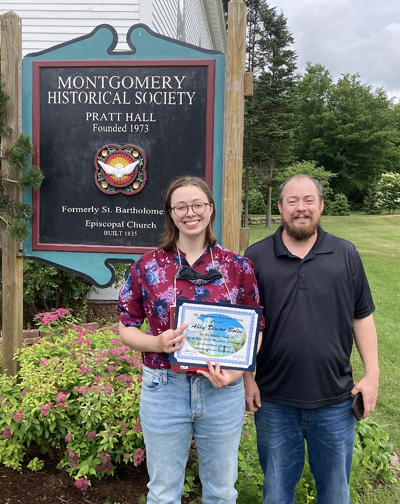 Abby Dixson-Boles and proud dad, Chris.