NEW BOARD MEMBER:
In March, Dale Matthews was appointed to serve on the MHS Board. A self professed lover of history, she's eager to help wherever she can. Welcome aboard!

The MHS Board is:
John Beaty, Patrick Calecas, Bob Cummins,
Marijke Dollois, Pat Farmer, Mary Garceau,
John Kuryloski, Roger Lichti, Dale Matthews, Bill McGroarty, Patty Perl, Scott Perry, Elsie Saborowski, Sue Wilson.
---
2023 SCHOLARSHIP APPLICATIONS DUE MAY 1ST
---
2022 TOWN REPORT INPUT
For this year's report we provided a two page article that discussed the State's 1983 Historic Sites and Structures Survey of Montgomery, the Society's formation 50 years ago, and our scholarship program. It included a Google Earth view of the town with the approximate boundaries of the three historic districts. As always we thanked the community and welcomed future support.
---
"HISTORY IN THE 252"
The Vermont Historical Society is assembling an exhibit based on inputs from every town in Vermont and will exhibit a sampling at the Vermont Statehouse in April. Each town was asked to provide a very brief "history nugget" accompanied by one picture. Our submission follows: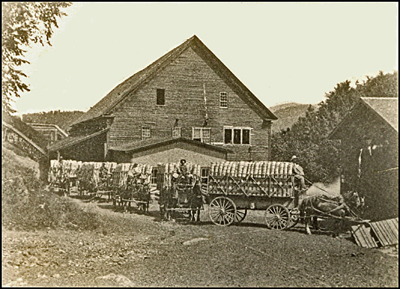 Five wagon loads of Hutchins tubs on the way to the train at east Berkshire.
MONTGOMERY
A major part of Montgomery's past involved an explosion of timber-related development following the Civil War. Major production included spools and bobbins, plywood packing cases, and, most notably, machine-made butter tubs. The Hutchins, and Nelson and Hall mills would see their production increase to nearly 1.5 million tubs a year making Montgomery the largest producer of tubs in the country. They were shipped to every state. The Nelson and Hall mill alone boasted a capacity of 3,000 tubs a day in 1905. Over 250 men were employed and numerous support services also required labor, housing, horses and teamsters, and other infrastructure (like covered bridges). Over half the buildings in town were built and owned by these mills. Workers came from throughout the area including an influx from Quebec. Montgomery's population would swell to 1,800 at the turn of the century and by 1920 it was the 5th largest town out of the 14 in Franklin county.
---
ARCHIVES UPDATE
We are still working on defining our requirements and design for a new archival facility. Our goal is to have something ready so we can start grant writing and other fundraising activities later this year. John Kuryloski is heading up the design process. We welcome your ideas.
---
IN MEMORIAM
We are sad to report the passing of long-time member and supporter
Don McGowan
. A familiar face on Montreal TV Don loved spending time in Montgomery and did at least three stories on his travel program centered on our Town. He was an active preservationist and provided advice to us when we undertook the West Wall capital campaign in 2014. Our condolences to his family and friends.
---
THIS QUARTER IN MONTGOMERY HISTORY
May 1904: Methodist Church hosts two day Women's Temperance conference. "Well Attended"
June 1956: Formal ground breaking for Montgomery to Jay Peak road.