On Halloween the Society and Board member/Author Jo Anne Bennett were recognized with an Award of Excellence for the recently published 3rd Edition of "Montgomery, Vermont:
The History of a Town".
The accolade was announced by the Vermont Historical Society (VHS) and League of Local Historical Societies (LLHS) at its annual meeting at Brattleboro, VT.
In making the presentation, Mark Hudson, Executive Director of the Vermont Historical Society, noted
"
Jo Anne Bennett had the toughest task, distilling over twenty years into this new chapter." Jo Anne elaborated "It was such a tremendous enjoyment and privilege for me to have an excuse to talk with so many people I hadn't known before. And such an eye opener about the amount of time and energy so many Montgomery residents put into making their community work. This is civic engagement at its very best." This is the tenth VHS/LLHS award received by the Montgomery Historical Society and its members since 2007.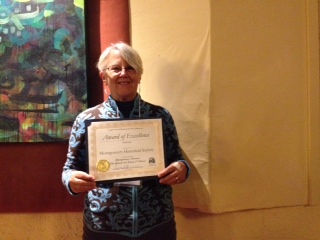 Jo Anne Bennett with Halloween Treat
---
LATEST VT MAGAZINE FEATURES MONTGOMERY
Not long ago we discussed a number of examples of how the MHS supports authors, genealogists, and others answering questions about Montgomery's heritage. One, author Pierre Home-Douglas, has a family connection to Montgomery and spent many vacations at his parent's home on the Fuller Bridge Road. He recently had an article titled "Discovering Montgomery" published in the Winter 2014/2015 issue of Vermont magazine.
He interviewed old timers, newcomers, and those in between to try to introduce the reader to what makes this community special. The article features a picture of Pratt Hall and quotes from Duane Jewett, Rolf Anderson, Greg Lucas, Jo Anne Bennett (erroneously identified as Jo-Ann Bailey), Hubert Daberer, Jack Quinn, and Scott Perry. Home-Douglas' byline says "Despite the changes that time has wrought, this mountain town hasn't forgotten its history."
---
HISTORY QUIZ
Gores were generally unincorporated areas often made up of small pieces of land not included in other towns. There were several tracts of land granted to Samuel Avery as compensation for land he lost after land disputes from conflicting VT/NY grants were resolved.
1. How many Averys Gores were there?
a. 5 b. 8 c. 11 d. 13
2. How many are there today? Where?
---
FIRST MHS TAX RETURN FILED
Members may remember that our success with the West Wall Capital Campaign necessitated our first ever federal tax return, a 990EZ, for the tax year 2013. It is now in the books. Our 2013 end of year net (cash) assets were $131,392.
One of the requirements of the return is a certification that we are indeed an publicly supported non-profit, which the IRS defines as an organization receiving more than 33.3% of its revenue from qualifying sources. According to the IRS criteria, we easily met the standard, receiving 68.1%.
We will be filing additional 990EZs for at least the next two years based on a three year running average of our fund raising exceeding $50,000. Our thanks to Sue Wilson and Marijke Dollois for all the work to assist the CPA in preparing all the forms.
---
THIS MONTH IN VERMONT AND MONTGOMERY HISTORY
January 1934: First rope ski tow goes into operation at Woodstock, VT
February 1781: Vermont's first newspaper published, The Vermont Gazette in Westminister.
March 1858/9: Montgomery receives portions of Lowell and Avery's Gore. Boundaries not finalized until the 1960s.
---
HISTORY QUIZ ANSWERS


1. b. There were 8 Averys Gores

2. There is 1 remaining, Averys Gore in Essex County, VT