The Board decided we should make a greater effort to open Pratt Hall to the membership and public over the holidays so more people could enjoy our beautiful building and decorations. We hosted three events on consecutive days.
Dec 17th's "Members Appreciation" was well attended and drew rave reviews. Spearheaded by Sue Wilson, the Board turned out a sumptuous spread from the kitchens of Elsie, Noela, Sharon, Parma, and Marijke; and provided wines. We will probably do this again next year.
Dec 18th's "Open House" was lightly attended but greatly appreciated by those who came.
Dec 19th's "Candles and Carols" also drew a large crowd and rave reviews. This year Maestro Andrew Massey was joined by eight musicians from the Vermont Youth Orchestra which he christened the Montgomery Symphony Orchestra. Many of them played last year and were eager to return. Sue Zenith-Collins and Marijke Dollois told stories, and everyone sang divinely.
Thanks to all of you who helped make this such a fun and spirited weekend and thanks to the Board and particularly Noela McGroarty and Marijke Dollois for the wonderful decorations.
---
Betty Stanton Receives Award from
VHS Director Mark Hudson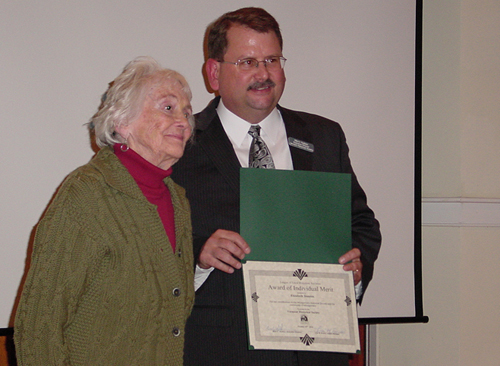 The Montgomery Historical Society's Betty Stanton was recognized by the Vermont Historical Society and League of Local Historical Societies for significant contributions to, and the study of, local history for the Town of Montgomery at its annual meeting held October 29th at the Bennington Museum.
Betty was one of 34 persons who founded the Montgomery Historical Society in 1974 around the cause of saving our former Episcopal Church, built in 1835, which was purchased for a dollar and then repaired and restored over the next 36 years. During this period she served as a Director for 17 years, and President for 4 years.
Major initiatives under her watch included rebuilding the clock, and bell towers, and restoration of the eight, 100+ year old stained glass windows. She also coordinated the printing of the second edition of "Montgomery: History of a Town".
Congratulations Betty!
---------------------------------------------------

Sad news... We just learned of the passing of Betty's daughter, Cynthia. Cynthia accompanied her mom on many sojourns back to Montgomery. We send our heartfelt condolences. Both Cynthia and Betty will be in our thoughts and prayers in the days ahead.
---
Treasurer's Report As Of Dec 31, 2010

Checking $ 4,696.13
Scholarship $ 592.33
Stained Glass CD $ 5,767.00
Capital Improvement $ 5,002.97
Domina Print Account $ 582.64
We have no debt!!
MHS/TD Bank
Affinity Program Members - 73.
---

Estate Planning and Bequests
Including the MHS in your will or estate plan is as simple as inserting this language in your will: "I give ___________ to the Montgomery Historical Society, having its principal offices at 2044 North Main Street, Montgomery, Vermont 05470, for its general purposes." Or you might name the MHS as the recipient of a percent of your estate. Likewise you could donate an item to our archives so future generations could learn from and enjoy it.

We are working on a brochure with general guidance and hope to have it ready soon. Please contact us for more details. The MHS is a 501.c.3 non-profit organization. Thank you.


---
Heard at Candles and Carols

What is the ratio of an igloo's circumference to its diameter?
Eskimo Pi.


---

The MHS Board is...

Scott Perry, Bill McGroarty, Sue Wilson, Marijke Dollois, Pat Farmer, Tim Chapin, Ken Secor, Elsie Saborowski, Jo Anne Bennett, Parma Jewett, Bill Branthoover, John Beaty
---